Hurrican Ian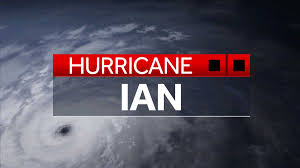 We are out of the cone here in South Florida, but we will experience the effects of Ian's outer bands and are under a tropical storm warning. As of 9:40 p.m. on September 27, 2022, Hurricane Ian is a category 3 storm moving south of the Tampa Bay area, causing severe rain and wind conditions in the Miami Metropolitan area. The storm is predicted to leave the state by Friday morning.
Some areas of Charlotte, Hillsborough, and Lee counties have been ordered to evacuate, while more than a dozen additional counties in west and central Florida have been ordered to do so voluntarily. Even though there will be no evacuations in South Florida due to the storm, it is always a good idea to be prepared for any disaster. Check that you have enough food and water for everyone in your home, as well as important documents, a flashlight, batteries, a radio, and a first-aid kit.
Broward and Miami-Dade County schools will be closed on Wednesday, September 28, and Thursday, September 29, and all after-school programs will be canceled. Both Broward and Dade county schools have not confirmed whether or not Friday, September 30 will be a school day. Monroe County schools will also be closed on Tuesday, September 27th, and Wednesday, September 28th.
Story Writer: Matthew Darby
Editor: Jada Bharat